Where does the time go? It's pretty disconcerting how easily the months slide by lately, but I'm trying not to worry about it. I started a new graduate program this fall, and although I've been careful to take time for certain crucial activities...
apple pickin
homemade apple fritters (thanks to Josh)
...I haven't been doing as much sewing. But I do have a finished project to share! Way back at the beginning of summer, I blogged my plans to sew a birthday dress from this cute Burdastyle sweetheart dress
pattern
: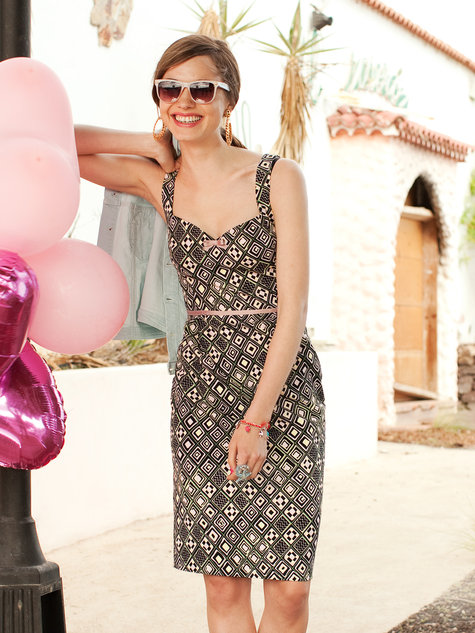 In this fabric:
Well it did eventually happen, but not in time for my birthday. It did happen in time for a fancy night at the museum where I intern, however, which was equally satisfying.
I love how this dress turned out! This project feels like a huge win because I don't think I could ever buy something similar in the store - it simply wouldn't fit. The ratios of my measurements don't exist in off-the-rack clothing, at least not that I've ever found. Earlier this year I searched in vain for a career-wear sheath dress that could handle my shape, but everything that fits me in the waist and bust is far too small in the hips. If I didn't know how to sew, I'd be restricted to A-line skirts. If I didn't know how to sew, I'd still be thinking that my body shape was the problem, instead of seeing that ready-to-wear clothing uses standardized measurements when no single body is standard. Sewing is awesome, and wearing this dress makes me feel like a million bucks.
I got so pumped about this dress, I whipped out my gorilla pod and the self-timer and took about a zillion pictures of myself as I was leaving the museum that night.
Just missed the sunset, unfortunately. But the lighting in the stairwell to the parking garage was pretty dramatic...
I ended up extending the side panels on the bodice all the way down the skirt. I guess I should have just stuck with my original plan to use Colette's Lily pattern. There were a couple problems with using the zigzag print for the entire skirt. First, it was a little overwhelming when stretched over the widest part of my body:
A little much, right? Second, there was this:
I swear I matched the pattern before I cut... but obviously something went wrong. Putting in the black side panels took care of both of these problems, and also allowed me to get a really good fit by creating princess seams. I'd still like to try this pattern with the original skirt (which has pleats and is less fitted) - just maybe in a solid or a a print that doesn't have loud, horizontal zigzag stripes.
I'd say more about the construction of this dress, but the insides aren't much to brag about. I pinked a lot of the seams. I suppose that's pretty lazy, but with this fabric (stretch sateen) I think it works. I did add a little pocket which I quite like:
It's basically an in-seam pocket at the waist, and I made it just big enough to hold a library card. In case, ya know, I decide to wear this dress to hang out at our public library.
I used two different materials for the facings because the main fabrics are so contrasting. This way, if the facing pokes out a little it won't be blatantly obvious (which it would be if it were all black or all white). I remember that figuring out how to attach this cut this facing, piece it together, and attach it to the bodice made my head hurt, a lot. Ever staring at it now is making me confused. Hopefully I won't have to do this again soon.
Thanks timestamp, for reminding me just what a procrastinator I am. On the other hand, it makes it easy to aim for improvement! All I have to do is post my next project before April!
See ya soon! (I hope!)